"It's going to be a game-changer, really, for the farm," said manager Heather Ramshaw
Content of the article
Highfield Regenerative Farm has opened a greenhouse that will allow the Calgary urban community farm to triple its production.
Content of the article
The nonprofit operation hosted the grand opening of its new facility on Friday morning with a barn-raising party planned for the evening.
"It's going to be a game-changer, really, for the farm," said Heather Ramshaw, the farm's operations manager.
Last year was the first year of operation for the farm located at 1920 Highfield Cres. SE, on 15 acres of previously vacant industrial land. The first harvest produced over 900 kg of produce, but the 1,400 square foot greenhouse will allow the farm to grow year-round and produce approximately 2,700 kg per year. Ramshaw said about 60 different types of vegetables are planned for this year.
The vast majority of what is produced goes to food banks and other services where there is a need in the city.
Content of the article
Ramshaw said the need for this type of operation is growing in Calgary.
"We just need to grow more food for ourselves," she said. "We have all felt the pressure of COVID and watching food prices rise and shelves empty and being able to rely on our own soil and our own resources is essential now and will become even more so as we move forward.
The new indoor facility will also allow the farm to run workshops throughout the year and get a head start on the outdoor season by starting seeds and some vegetables early, while providing better coverage for susceptible crops such as tomatoes, peppers and cucumbers.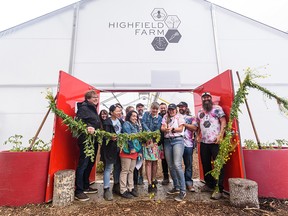 The greenhouse uses climate batteries and heat transfer from compost to maintain its operations and solar power is being considered, although this is a larger investment.
Content of the article
Highfield built the greenhouse with the help of a $227,000 food infrastructure grant from Agriculture and Agri-Food Canada. Highfield had to match some of that through fundraising and in-kind work. A silent auction was scheduled as part of the barn raise on Friday evening to help offset other costs.
Over the next two years, there are plans to build a medium-scale composting facility capable of processing waste for the local neighborhood.
Highfield Regenerative Farm is a project of the Compost Council of Canada and relies on community volunteers to help with planting, weeding and harvesting.
Twitter: @JoshAldrich03