Turkey has started mass production of a new ammunition designed specifically for its drones. In an exclusive interview with a AA Correspondent, Gürcan Okumuş, Director of the Defense Industry Research and Development Institute (SAGE) of the Turkish Council for Scientific and Technological Research (TÜBİTAK), discussed recent advances regarding BOZOK, SOM -J, KUZGUN and GÖKTUĞ. In this regard, Gürcan Okumuş reported that the miniature Bozok laser-guided munition, the institute's first drone munition, has entered mass production.
TÜBİTAK SAGE started developing Bozok in 2015 as an "intermediate solution" in addition to ROKETSAN's Smart Micro Munition family (MAM-C, MAM-L and MAM-T). In 2018, Bozok's first firing test was carried out using a Bayraktar TB2 drone, confirming the high-precision strike capability of the ammunition. Work on developing Bozok's various abilities has continued since then. The new test firings in the Gulf of Saros were used to assess the point reached in the project. Bozok was launched with laser guidance this time, and he managed to destroy his target. Bozok, whose qualification procedure began in 2020, was supposed to go into mass production in 2021, but due to the Covid-19 pandemic, that date was pushed back to 2022.
BOZOK, according to TÜBİTAK SAGE, enables effective defense in asymmetric warfare without risking friendly forces by providing UAV attack capabilities. Bozok offers operational conformability in drones where weight is crucial due to its lightweight and compact design. BOZOK uses an inertial measurement unit for mid-course tactical inertial navigation. The semi-active laser seeker provides precision guidance during the terminal run. BOZOK delivers large-scale anti-personnel impact based on proximity sensors and optimal end-of-life target effectiveness.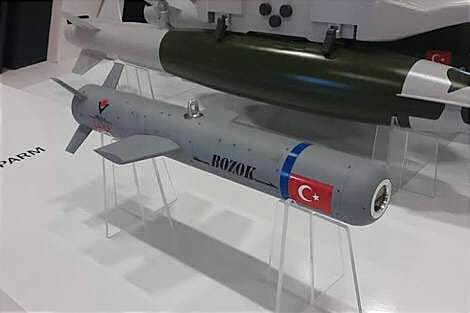 Bozok falls between MAM-C and MAM-L in terms of technological features thanks to its lightweight and compact design. The device, which weighs 16 kg and measures 120 mm in diameter and 80 cm in length, has a range of 15 kilometres. Bozok, which will be equipped with a special multi-particle tungsten warhead, can be used in any mission that does not require penetrating armor. However, with Bozok upgrades, an armor-piercing warhead can be added.
At the moment, it seems that the first export customer of the new laser-guided miniature ammunition, which will enter the inventory of the Turkish Armed Forces in batches in the next few days at the start of mass production, is ready. As Ukrainian Ministry of Defense also announced on Twitter that Turkish Bozok ammunition has started mass production. According to the ministry, the miniature Bozok laser-guided munition is highly compatible with Bayraktar TB2, and Ukraine is currently the perfect testing ground for the munition. If Turkey agrees with this message, a meeting between the delegations should take place soon and BOZOK will be delivered to Ukraine.